Welcome to Tapas Community!
Tapas Community is the diverse creator community on Tapas and a new space on the Tapas app that features free-to-read community webcomics and webnovels. We have a huge selection of series to read, from a variety of genres to culturally diverse stories. Find us on the Tapas app!
Are you a creator? Discover how Tapas supports our creator community.
Navigating our Tab
Featured Series
Featured series appear at the top of our Community tab, where you can browse high-quality, free-to-read series. Subscribe to these series via the small bookmark button on the bottom right corner.
Events
If you are interested in what is happening within Tapas Community, check out our Events row! We have events for both readers and creators including reading campaigns, art challenges, and giveaways!

We occasionally post important Tapas Community announcements in this section, so be sure to stay on the lookout for these. Join our Tapas Community Discord to stay even more up-to-date with our events and announcements!


New from the Community
With our New from the Community section, Tapas highlights and celebrates new creators and series to our platform. Discover some upcoming creators and community series in this section!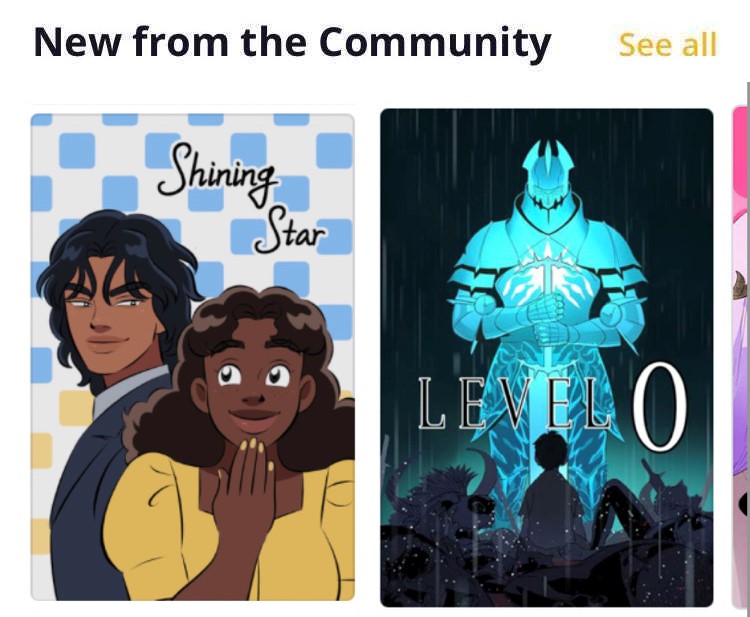 Shining Star and Level 0
Genre Collections
We have a diverse genre range in our community which we rotate weekly with new collections. Make sure you check out this section often for some awesome, curated reads!

Tales of Feorh and A Party's Edda



Novel Picks
Tapas Community has a vibrant community of not only comic creators but novelists! Browse the 'Novel Picks' section to find a curated selection of our favorites!
Help Guide
Need help? Our 'Join the Community' row will be available for you to browse creator guides, read our informative Help Desk, or join our Discord Community. Check these sections out if you ever get stuck or become interested in publishing on Tapas!

Supporting Our Creator Community
There are many other ways to get involved as a creator in the Tapas Community. Be sure to check out the links below to learn more about each topic!
What does Tapas provide for creators?