Hi there! Welcome to Tapas' Quick Guide to Thumbnailing for comics and novels. Thumbnails are an important part of showcasing both comics and novels as it will give the reader a overall impression before even clicking! We've put together this quick guide to help understand what makes an eye-catching thumbnail to help spark some inspiration! If you already have a thumbnail, GREAT! You got this! But if you haven't created one yet, or just want to check out our tips, please feel free to keep on reading. Remember, you can always come back and change your thumbnail later!
Comics
Sizing
Tapas Thumbnails are set to be squares of 300px by 300px. So be sure the image you use fits within this format and is not stretched as this may lead to a loss of resolution.
Themes
The main purpose of your thumbnail is to portray the theme of your story. Many creator do this by playing around with the composition of the image.

Composition is the placement of visual elements within the space and how they interact with each other. (subject, background, lighting, color, negative space, the works!)
It's common practice for creators to have their main character/characters be the main subject of the thumbnail. Along with specific coloring and/or lighting to give off a feel. For example, below are some thumbnails showing characters in dramatic lightning while looking to the camera. Which tells us that these stories will most likely be dramatic and rich with story!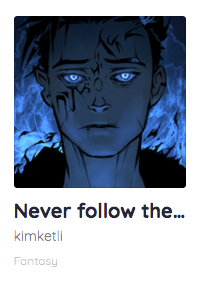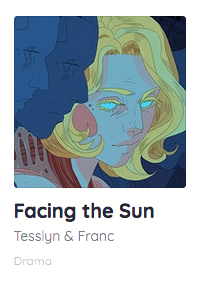 Never Follow the Wispfinch! Facing the Sun

Placement of your Subject
Here we've collected some eye catching thumbnails that are great examples for ways to place your subject.
Asymmetry is when your subject is off centered in any direction. Having darker or lighter backgrounds will help guide the eye to the subject.
Centered is a classic way of showing your main character and is easy to achieve! Just put your chatacter in the middle of the frame!
Circular Motion can be tricky to achieve, but here is a good example with Universe Jumper. With the characters positioned this way, you may feel your eyes being pulled in a circular fashion from one character, to the next, and back again.
You can also work by cutting the frame into halves!
For vertical split, you can see where the door(?) frame cuts the panel in half and the character is on the other side. With the slight angle of the door, it feels like the character is a little smaller, afraid and hiding. Giving me the impression that this series might be a little spooky!
Next is a slant. Did you know that slanted lines catch the human eye faily quickly? Here's a good example of two characters created an imaginary slanted line!
Similar to the Vertical split, the Horizontal Split cuts the frame in half and can be used a number of ways!
Movement, Wording and Combining
Wording: If you put words in your thumbnail, shorter words or acronyms are highly recommended compared to a full title which can be difficult to read in the app where thumbnails are smaller.
Movement: Motion in a thumbnail helps catch and navigate the eye across the image, a great example can be seen here with the motion of the rope and character.

These examples also illustrate ways you can combine different techniques to make a fun thumbnail!
Novels
For novels, thumbnailing can be difficult if you do not draw yourself. However you still have a few options! You can either:
Reach out to the artist community on Tapas and commission a thumbnail.
Use your own, or royalty free, images to play with.
Or use Canva! A website dedicated to helping you create graphics for free!
There are two common techniques for novel thumbnails as seen below.
Typography
As seen in these examples, you can play around with font and superimpose them over your photo in many fun ways!
Character Art
Many novelists will also hire freelance artists or comic creators to create a thumbnail for them featuring their character. Here are their examples!

Thumbnail Content
Tapas, as a whole, is a community of individuals from all ages and cultural backgrounds. Although we believe creators should have the freedom of artistic expression we must also acknowledge our reader's experience on the platform. Exposure to mature themes, stories or artwork should be an opt-in experience for readers -- similar to the mature filter readers must opt-in with in order to view mature material.

Thus, Thumbnail and Book Cover images must follow our Terms of Service and Content Community Guidelines. If any Book Cover or Thumbnail breaks our TOS or Content Community Guidelines, the series will be temporary interstitial until the images are altered.