Tapas Media Services ("Tapas Media," "Tapas," "Tapastic," "Service" or "Services") are provided by Tapas Media, Inc. ("We," "Our" or "Tapas").
The Tapas community is made up of diverse creative people from around the world, all of whom may have different cultural backgrounds, opinions, and beliefs. We value these varied perspectives and recognize that these differences have given rise to the incredible and powerful storytelling found on Tapas. Each and every person helps make our community what it is and with this in mind, together we can keep Tapas safe and fun for everyone.
Please respect the spirit in which the content and community rules were intended: to ensure a positive experience for everyone.
This page covers both the content that's appropriate and the behavior that's encouraged on Tapas. Guidelines on this page apply to both comics and novels unless otherwise noted. We take these guidelines seriously and must insist that you read them carefully and be mindful of them when using Tapas.
Our guidelines cover:
Respectful Behavior
We share the responsibility of ensuring that everyone feels respected and free to express themselves on Tapas. Here are a few rules to help make that happen:
Be Polite
Respect copyright:

Only upload content that you have created or have permission to use. Do not plagiarize or trace others' work. You are responsible for all activity associated with your account, including any content you post, whether it be a comic, novel, cover, banner, thumbnail, etc. If you're unsure whether it's ok for you to upload something, please refer to the content section of our

Terms of Service

.

Crediting or mentioning the creator of the content does not give you permission to post other creators' work. Legally, you must obtain the copyright holder's consent to post or distribute their content.
Translated content may only be posted with the original creator's explicit permission. We may ask you to provide proof of this permission in the case that the content is flagged.
Transformative works such as fan-fiction and fan-comics/Doujinshi are generally ok, but there may be opposing perspectives on what constitutes breaching copyright. We reserve the right to take down content which has been proven to violate copyright.
Don't be a bully:

Be a buddy. Behind every story and profile is a real person. We recognize that there may be differences in how individuals define harassment and individuals may have different thresholds on what they consider acceptable or not. For this reason, we encourage users to try to mediate problems on their own and to utilize the block feature. However, if harassment gets out of control, or you feel uncomfortable handling the situation on your own, please report it to us at

feedback@tapas.io

, and attach any supporting documents. At the end of the day, we do not tolerate any abusive, demeaning, or threatening behavior within the community and will do everything we can to assure a positive experience on Tapas. Participating in these negative behaviors may result in a warning or banning of your account.

Be kind in your feedback:

Feedback can be a valuable tool, and when done with respect, can be a great way to make friends and help others improve. If you want to provide feedback to other creators, do so in a constructive (rather than destructive) manner, and remember to focus on the content rather than the person who created it.

Protect privacy:

Don't share someone's personal details without permission. This includes real names, private conversations, photos, phone numbers, home or email addresses, or other sensitive information that may compromise their safety.
Do have fun, share stories, and participate. Don't bully or harass other users.
Don't Spam
No one likes spam (unless it's in a can).Tapas does its best to keep spam on our platform to a minimum. We prohibit spammy activity and the use of related services.
Spamming includes, but is not limited to, excessive posting of unsolicited content or links. An example of this includes spamming other creators' wall to self-promote. Performing these actions may result in warnings or action being taken against your account.

Accounts created for the sole purpose of promoting or spamming commercial products or services may be banned without notice.

Tapas may utilize an automatic blocking system to assist in filtering out spam. We may also manually identify and in turn, immediately remove content we determine to be spam.
Be You
Tapas welcomes the use of pen names and online identities. However, it is against our guidelines to impersonate someone else or pretend to be associated with someone you are not. Do not use someone else's name or trademark without their permission. Do not create profiles or post content intended to make people think you are someone else.
Fake Engagement Policy
Do not engage in activities that artificially increase metrics such as the number of views, subscribers, or comments through automatic systems or use of third party services. Do not create, use, or promote bots or other automated means to increase view counts or perform social interactions. Do not create multiple fake accounts for reasons such as, but are not limited to, driving traffic to external websites, inflating the popularity of other profiles, or abusing the Support Program. Content that violates this policy may result in the removal of your account.
Content boundaries
Harmful or Dangerous Content
You are welcome to share your opinions and beliefs on Tapas, even if they challenge the status quo or may be controversial. However, Tapas reserves the right to remove any content that might prove to be harmful or threatening.
Strictly prohibited content include:
Dangerous content

that we consider to encourage injurious activities such as, but not limited to, supporting or celebrating terrorist organizations and their leaders, or which incite others to commit acts of violence, destruction, or self-harm. Glorifying or romanticizing real life hate groups or those who have committed heinous crimes, such as mass shooters, are not allowed. Do not perpetuate or normalize violence or hate. Additionally, we do not condone the spread of disinformation.

Hateful content

that promotes or encourages hate, violence, or discrimination against a person or group based on race, creed, cultural or ethnic background, disability, age, veteran status, sexual orientation, or gender identity.

The use of derogatory language, images, or slurs is prohibited unless they have an explicit purpose or significance to the story.

We recognize that we do not live in a world free of these things and do not want to censor stories depicting real world events or experiences. However, we ask that you not glorify these things and be mindful of the content you post. We ask that you provide appropriate warnings and censors to ensure a positive reader experience.

Malicious content

which exposes users to harmful software or websites. You are responsible for the safety and validity of outgoing links you post.

Child endangerment:

content depicting the sexualization of children or sexual objectification, where the sole purpose of the child is to exist in a sexual context is prohibited.
Marking your content Mature does not mean it can contain the prohibited content previously mentioned. Content warnings are highly encouraged for series or episodes that include sensitive subjects. By providing warnings, you help ensure a positive experience for everyone on Tapas.
Advertisements
Series and episodes should contain installments of a serialized story, standalone, one-shot comics or novels. Series and episodes should not be used for advertisements unrelated to the content.
Any noticeable attempt to place an advertisement unrelated to the content, redirect traffic from Tapas to third-party websites, and/or harm the user experience of our community (determined at Tapas' sole discretion) is prohibited. We allow links to personal websites and social media links in Series, Profile descriptions, and walls. We also allow third-party website links in episode descriptions and posts, as long as they provide a relevant, complementary experience for your readers and the Tapas community.
Genres
We believe in the freedom of self-identifying genres for your series and have introduced a number of new genres to help readers find your stories easier. Please use your best judgment to identify the genre of the story that you're telling. To maintain the health of certain genres, Tapas maintains the right to move a series from one genre to another if we find it not appropriately reflected by the chosen genre.
iOS and Android Regulations
In general, your content may be accessible on three services: the Tapas website, mobile web, and mobile apps. However, in order to be serviced on mobile apps, your content must also adhere to the iOS and Android guidelines featured below, along with the Tapas guidelines.
App Store Guidelines: While we allow a certain extent of violence, profanity and nudity, depiction of extreme violence primarily intended to be shocking, sensational or disrespectful is not allowed. These include, but are not limited to, portrayals of gore, mutilation or torture of human beings, animals (including bestiality), or their remains. Sexually explicit content, including depiction of genitalia (organs used in sexual reproduction--primarily external sex organs, but depending on the context may extend to internal sex organs), anus, pubic hair, sexual acts, or pornography are also not allowed.
Read more about iOS + Android guidelines here: Apple's App Store Review Guidelines and Google Play Developer Policy Center.
At Tapas, we believe that creators hold autonomy over their self-expression and stories. We aspire to foster a space where users are able to create without reservations. For these reasons, existing App Store guidelines will not apply to our website. If you choose to do so, you have the option to publish stories that only adhere to our website guidelines. However, these works will not be accessible via our mobile apps. They will only be accessible to readers on the Tapas website.
Mature Content
At our discretion, Tapas allows a certain extent of violence, profanity and non-sexual nudity, as long as it is behind a Mature filter. Uncensored depictions of extreme violence and all forms of pornographic sex acts are not allowed in comics. Depictions of violence or nudity for diegetic, artistic, or educational purposes are more likely to be allowed than gratuitously graphic ones. Novels adhere to slightly different regulations. As long as the primary narrative of a novel is not erotic in nature or its intended purpose is not to solely provide erotic satisfaction (i.e. no porn without plot), depiction of genitalia or sexual acts, including penetration, are permitted.
Creators with mature content must rate their content as Mature to warn readers they may encounter sensitive themes. We ask that you provide content warnings when depicting sensitive topics such as, but not limited to, rape, violence, self-harm, etc. Content titles and descriptions are important tools that should be used to clarify intent and context.
Different rules apply for content deemed unsuitable for the web and the mobile apps.
Content that does not adhere to Tapas' guidelines may be taken down from the website and app. Repeat offenses will result in the removal of the user's account.

If the content does not abide by

iOS+Android regulations, you will be given the option to make adjustments to your content in order to be reinstated to the app. The series will still be accessible via the web. In the case that you do not wish to change or censor your content, your series will still be accessible via Tapas' website.
Elements, including profile pictures, thumbnails, covers, banners, series descriptions, or one-liner blurbs, that cannot be masked by the Mature filter must be appropriate for general audiences. Users who fail to make the aforementioned fit for general audiences will receive a warning. Inappropriate thumbnails, covers, banners, series descriptions or one-liner blurbs will not be accessible by new readers until adjustments are made by the creator. These elements should also be representative of the actual content and should not be misleading.
Different sets of rules apply to Premium Series, which consist of content directly distributed by Tapas. Mature Premium content is treated as a separate entity than non-premium series. In order to view these stories, you will need to visit the Tapas desktop website, log in, and verify your age.
While individual creators may publish explicit content on Tapas, only Premium content will be featured under the Mature Section. Currently, the Mature Section is not open for submissions.
Reporting and enforcement
At Tapas, we believe in the creator's rights to freedom of expression in the stories that they wish to tell, with allowance for many varied points of view. However, if you encounter content that breaches our guidelines, you can flag it for review using the Report button found at the end of every episode.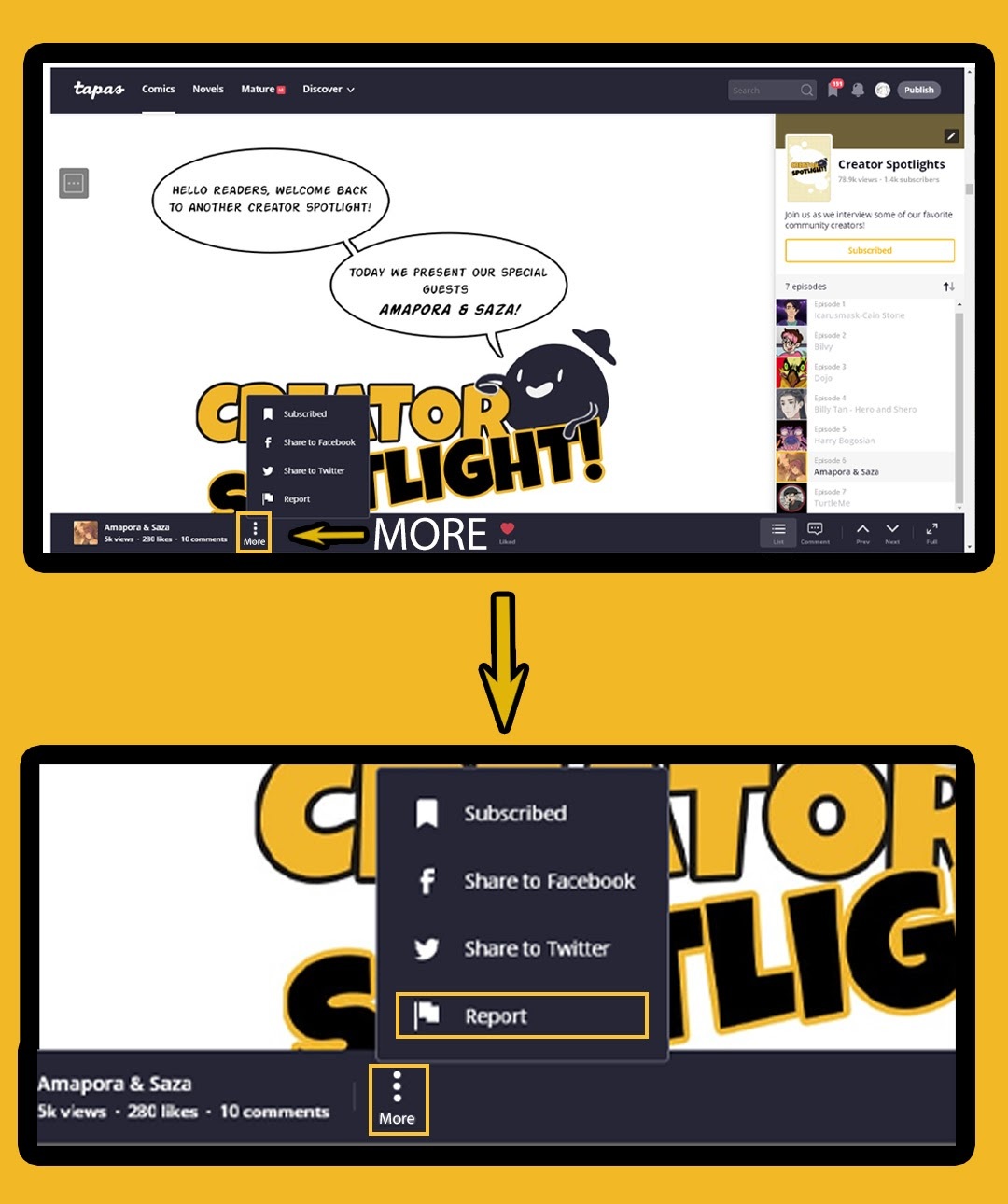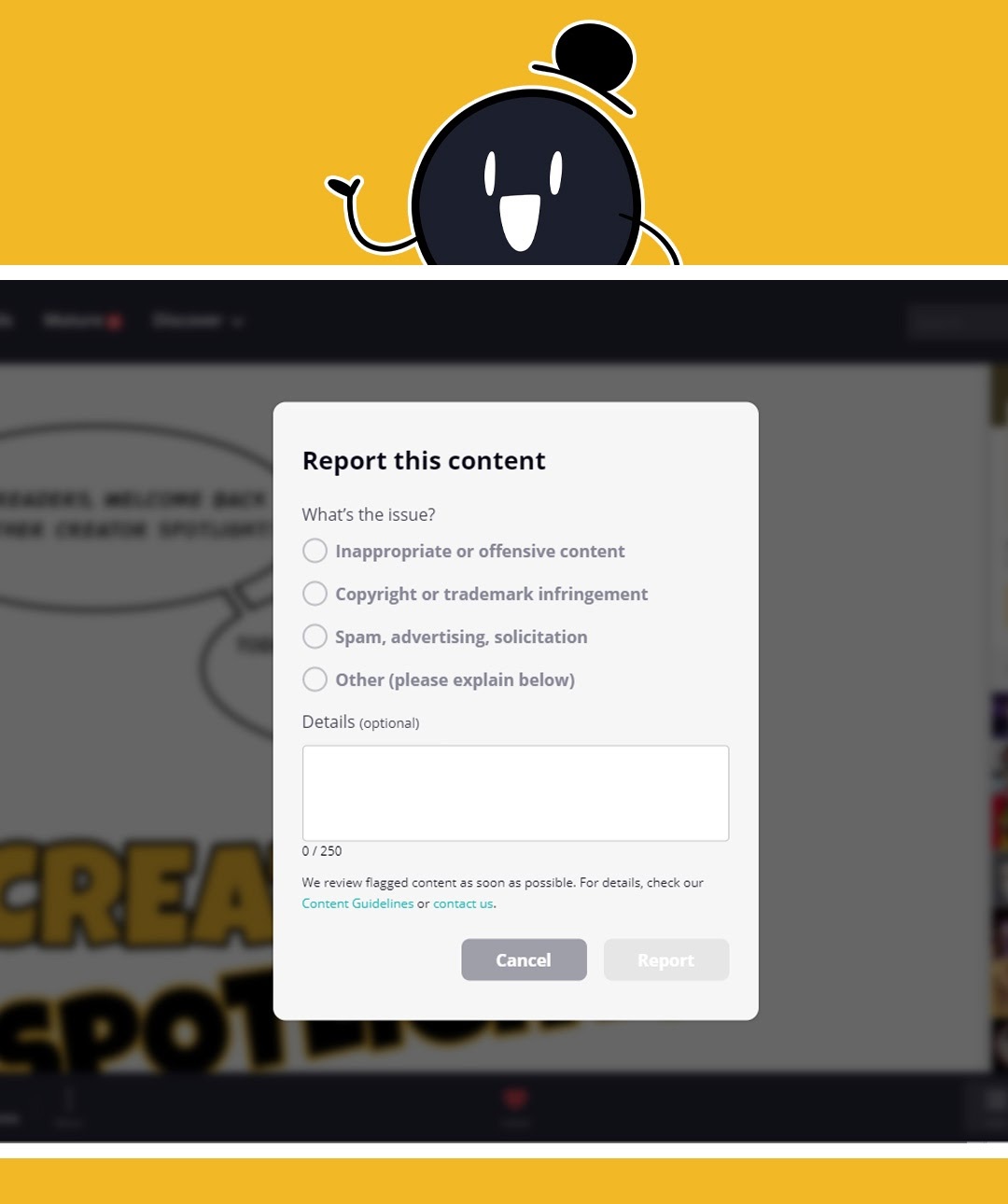 Reports will be reviewed by Tapas staff, where we will evaluate potential policy violations to determine if the content is inappropriate. The review process may take up to 5 business days. If the content does indeed seem inappropriate, access to flagged content may be restricted. If there is a violation, we will notify the owner of the account if further action is required. In extreme cases, content may be removed or accounts may be suspended without warning.
Please keep in mind that we strive to maintain a fair and open-minded approach to how series posted on Tapas are moderated. Reported content that does not explicitly violate our guidelines may not be removed. We ask that you not report content solely based on your disagreement with the subject matter, but reserve reports to content violating the aforementioned guidelines. Please do not report content in bad faith. Falsely reporting content in a spammy manner may result in action being taken against you, the reporting account.
Feedback
Our policies may evolve or expand in the future--we want to make sure we are constantly adapting to the needs of the community and the company to ensure that Tapas continues to be the best it can be. This page will always host the most current set of Tapas' guidelines and policies.
Any and all policy regulation is open to review. Suspensions of content and or account access can be contested by contacting us.
Last Modified : 2021-02-01
For archived versions of our Community Guidelines, please visit Prior Versions